This post was published
12 years 10 months 22 days
ago which may make its content inapplicable to the current Islanders roster and/or team news. This site is not responsible for any misunderstanding.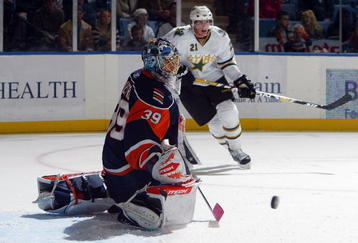 Hey remember that guy that we would yell at for wandering out of the net, time after time after time? He wears number 39, he is quite athletic and loves to steal games for the Islanders?
We're talkin' bout Rick DiPietro folks, and he gets the start tonight in Dallas against the Stars.
Check out my latest post over at The Bleacher Report for more on this glorious day:
In a journey that started in a galaxy not far from our own, but in a time that seemed light years away, the Islanders franchise netminder—Rick DiPietro has finally reached the end of his road to recovery and is set as the starter tonight in Dallas.

If you have not been following along, in early December DiPietro was assigned to the Islanders AHL affiliate Bridgeport Soundtigers for a conditioning stint. DiPietro was to play in an unspecified amount of games, but would not play a complete game during his brief stay in Connecticut. Instead, DiPietro would start in one—and only play two periods, he cited "tightness" as a concern after the game and was sidelined once again.

The team erred on the side of caution and shuffled DiPietro to several Doctor's for help. Claiming the problem was corrected, DiPietro was again cleared for practice and under cloak and dagger type secrecy, was shuttled to the Soundtigers once again for a conditioning stint. This go around in the AHL, DiPietro would play in two complete games and suffer losses in both making his conditioning record 1-2-0 with a 3.31 GAA and .883 save percentage. Read the full article HERE