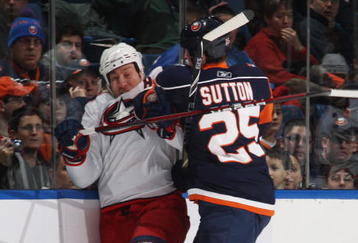 Unfortunately big hits and injuries are part of the game we have all grown to love and respect, it's also unfortunate that sometimes they both go hand in hand. Such is the case for Andy Sutton who laid a booming hit on the Penguins Pascal Dupuis in a 6-4 loss last night. Dupuis was hit from behind on the play and lay crumbled, disoriented and bleeding as a result of the hit. Sutton was given a five minute major and a game misconduct on the play. Dupuis was helped off the ice and did not return.
Sutton attended a disciplinary hearing earlier today and learned he has been suspended for two games as a result of his hit.
My reaction and opinion are up over on Bleacher Report.
Sometimes, it's best to just accept your punishment and this is one of those times for Islanders defenseman Andy Sutton.

Last night in the Islanders 6-4 loss against the Pittsburgh Penguins, Sutton laid a booming check on Penguins forward Pascal Dupuis. This isn't far from the norm for Sutton, as he hits players hard and quite often on the regular (Sutton is in a three way tie for ninth in hits on the Islanders with 44 and is six shy of the team lead). However, this time he caught Dupuis in the numbers and in a vulnerable position.
Read the entire article HERE and be sure to vote in the poll!